LSU CELEBRATES 60TH ANNIVERSARY
OF NCAA BOXING TITLE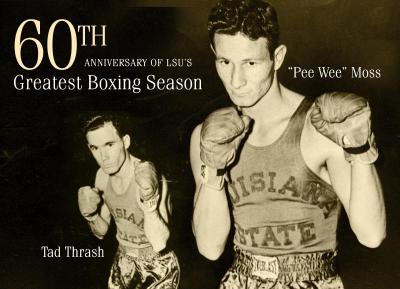 05/06/2009
by RJ Marse
Student Assistant

As LSU celebrates the 60th anniversary of its 1949 NCAA boxing title, team captain and individual national champion Pee Wee Moss reflects on how boxing came into his life more than half a century ago.

For Moss, it all starts with a name.

A native of Beaumont, TX, Moss was raised by his mother, Mary, and attended a local Catholic high school then named St. Anthony's. The nickname "Pee Wee" came as a young boy for an obvious reason. Moss, the eventual national champion in the 125-lb. weight class as a grown man, wasn't exactly the biggest kid in Beaumont. Besides, when you consider the alternative, Pee Wee is certainly the better name for a fighter.

"Wilbert Orie Moss," he says when asked his real name.

"Now you know why I learned how to fight."

All joking aside, Moss learned how to fight quite well. As a junior competing at 119 pounds, he was only beaten once. Comfortably weighing in at 131 pounds, fighting at 119 meant sacrifice and self-discipline. Moss spent the night before each fight in the "sweatbox" trying to make weight and, according to some of his friends and family, looked like he might have been wasting away.

"My brother used to come up behind me, grab me by the back of the pants and holler 'Boy, where did your behind go!?'," said Moss.

In 1949, he moved up a weight class to a more powerful 125 pounds and went undefeated, capping his senior season with a win by unanimous decision in the title bout over Marc Martinez of San Jose State.

"Martinez was the toughest fighter I ever fought. He was constantly coming forward and punches did not seem to bother him," Moss would later say.

After his victory over Martinez, Moss was soon joined by teammate Tad Thrash as an individual champion and helped lead the Tigers to the 1949 NCAA Championship.

"You're looking at a total and complete nobody coming out of high school," said Moss.

"I started at LSU on the GI Bill and earned my boxing scholarship as a sophomore ... we worked hard all week and fought as hard as we could on the weekends. We wanted to win our fights and go to the national tournament. We were able to meet our goal."SID
Thrash would go on to win another national title in 1950 and become the successor to boxing coach J.T. Owen at LSU until 1960 when the NCAA stopped sponsoring collegiate boxing. During his time as coach, he earned his Ph.D. in economics from LSU. Tad then became the LSU Director of Alumni Affairs and enjoyed a long career in higher education that ended when he retired as Executive Secretary and Director of the Board of Trustees of the State Institutions of Higher Learning in the state of Mississippi.

Moss's path led him back to Baton Rouge, where he has lived since 1959. He retired as the principal of Kenilworth Junior High School in 1982 after a long career as a teacher, coach and administrator. Both Moss and Thrash were inducted into the LSU Athletics Hall of Fame.

"As a small person [boxing] gave me tremendous confidence in whatever I tried to do. You take some licks and you get knocked down, but if you work hard the licks don't hurt so bad and you learn to get up and keep going and good things happen to you," said Moss.

Moss and his wife have two children and several grand children, all with degrees from LSU. They still live in Baton Rouge and, although he gave up his football season tickets years ago and hasn't been to a basketball game since the days of Pete Maravich, he's still a Tiger fan through and through.

When he comes to throw out the first 2009 pitch against the Florida Gators on Saturday at Alex Box Stadium, it will be Moss' first time in the new stadium. But don't think he isn't familiar with the Tigers' new home.

"I play golf at LSU every Saturday, so of course I've seen that Taj Mahal over there," he said.

"I can't wait for the weekend. LSU was one of the greatest things to ever happen to me. Otherwise I'd be a nobody walking the streets. To be able to do something like this is truly an honor. I'm touched."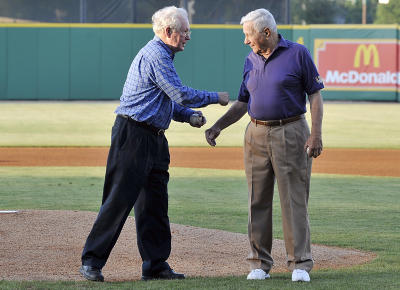 Thrash (left) and Moss (right) prepare for the first pitch.

GEAUX TIGERS!